Attending the Curaçao North Sea Jazz Festival 2018? Stay at ACOYA and enjoy these incredible DEALS / Tickets to the festival included in all packages!
Package includes:
3 nights accommodation including tax and service charge.
Daily breakfast buffet.
2-days tickets to Curacao North Sea Jazz Festival 2018; including the free concert on Aug 30th, 2018.
Welcome drink upon arrival.
Free entrance and beach bed at Madero Ocean Club.
Free Wi-Fi & free use of our gym.
Free shuttle to Mambo Beach Boulevard, Punda and Vreugdenhil Supermarket.
Add-ons:
All Inclusive meal plan $ 75.00 per person, per day.
Transfer airport-hotel-airport is only US$ 32.00 per person round way.
Terms & Conditions:
For all reservations, a non-refundable downpayment of 50% is required to guarantee room and tickets. Full payment is required 21 days prior to arrival.
DELUXE ROOM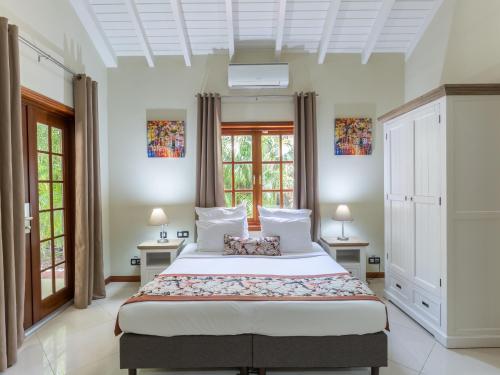 Deluxe Guest Room including 1 split king bed, 1 full bathroom, 40" flat screen TV with cable, refrigerator, coffee maker and toaster. All accommodations include air conditioning and free wireless Internet.

$886.00 PER PERSON, BASED ON 1 PAX
$668.00 PER PERSON, BASED ON 2 PAX
FAMILY ROOM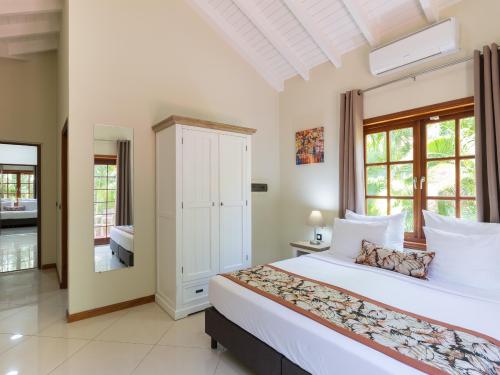 At ACOYA Curacao, we know that families should stay together. Our Family Rooms are designed so your children are as close as possible, Two Guaranteed Connecting rooms equipped with: Air conditioning, a 40' screen TV, toaster, coffee maker, mini fridge, in room safe, air conditioning, electric kettle, hairdryer, telephone, private bath and shower iron and ironing board and free wireless. 4 people per room, 2 adults & 2 children, 3 adults & 1 child, 1 adult and 3 children or 4 adults with existing bedding.

$706.00 PER PERSON, BASED ON 2 PAX
$621.00 PER PERSON, BASED ON 3 PAX
$578.00 PER PERSON, BASED ON 4 PAX
1-BEDROOM APARTMENT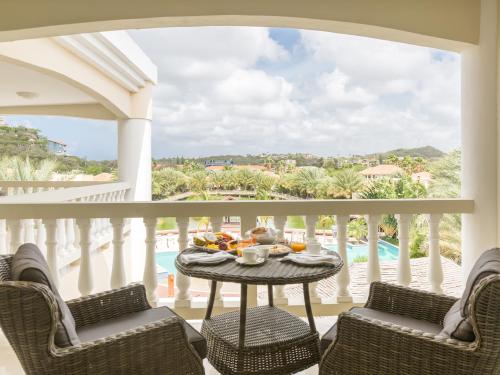 Relax in total comfort in this elegantly furnished apartment. Enjoy a spacious living area, kitchen, dining room and balcony or terrace. This room features all facilities of a deluxe bedroom plus a fully equipped kitchen with stove, refrigerator, microwave, oven, toaster, coffee maker, electric kettle, dishes, and cookware.

$999.00 PER PERSON, BASED ON 1 PAX
$725.00 PER PERSON, BASED ON 2 PAX
2-BEDROOM APARTMENT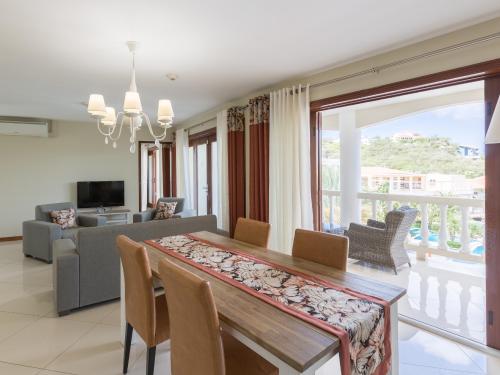 Spacious 2 bedroom apartment with balcony overlooking garden includes 2 split king beds, 2 full bathrooms, fully equipped kitchen including electric range stove, oven, microwave, refrigerator, coffee maker, toaster, dishes, glasses, pots and pans. A family room with dining table, 40" flat screen TV and comfortable furniture. All accommodations include air conditioning and free wireless Internet.

$770.00 PER PERSON, BASED ON 2 PAX
$664.00 PER PERSON, BASED ON 3 PAX
$610.00 PER PERSON, BASED ON 4 PAX
3-BEDROOM APARTMENT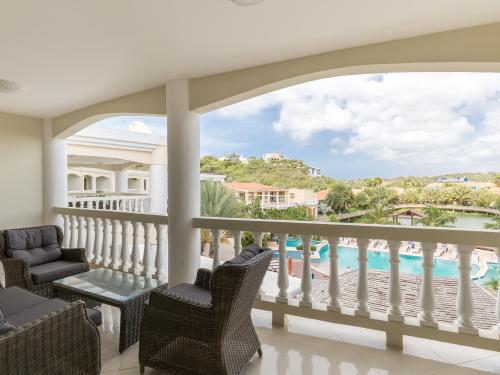 Spacious 3 bedroom apartment with balcony overlooking garden includes 3 split king beds, 2 full bathrooms (1 shower, 1 bathtub), fully equipped kitchen including electric range stove, oven, microwave, refrigerator, coffee maker, toaster, dishes, glasses, pots and pans. A family room with dining table, 40" flat screen TV and comfortable furniture. All accommodations include air conditioning and free wireless Internet.

$715.00 PER PERSON, BASED ON 3 PAX
$649.00 PER PERSON, BASED ON 4 PAX
$609.00 PER PERSON, BASED ON 5 PAX
$582.00 PER PERSON, BASED ON 6 PAX
3-BEDROOM VILLA PRIVATE POOL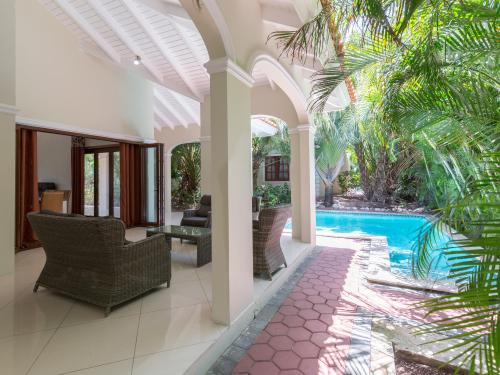 Spacious 3 bedrooms villa with tropical garden, 3 split king beds, 2.5 or 3 full bathrooms (bathrooms vary), family room and fully equipped kitchen including stove, oven, microwave, refrigerator, coffee maker, toaster, dishes, glasses, pots and pans. A family room with dining table, 40" flat screen TV and comfortable furniture. All accommodations include air conditioning and free wireless Internet. Enjoy one of our famous private pools just for you!

$860.00 PER PERSON, BASED ON 3 PAX
$757.00 PER PERSON, BASED ON 4 PAX
$696.00 PER PERSON, BASED ON 5 PAX
$655.00 PER PERSON, BASED ON 6 PAX